For over three decades, the ihra (International Hot Rod Association) has been a pioneer and trendsetter in the motor sports industry through innovative and racer-friendly drag racing programs.
With its head office in Norwalk, Ohio, the ihra is the fastest growing drag racing sanctioning body in the United States. ihra-sanctioned, professional, sportsman and bracket racing provides competition opportunities for drivers at all levels, developing future stars through the ihra Summit Drag Racing Series, Holley Sportsman Championship, Super Summit Series and Briggs & Stratton Junior Dragster Series.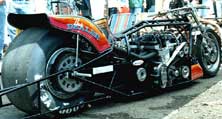 The ihra was the first drag racing sanctioning body to introduce drag racing to a cable television audience, early in the 80 s on ESPN. In the fall of 1999, they announced they had entered into a multi-year partnership with TNN to televise the Summit Drag Racing Series national events in prime time. An agreement was also reached with TNN s "Horsepower TV" to provide coverage of ihra sportsman racing. With access to 84 million homes in North America, TNN will brand the series, develop driver personalities, create new hero s and provide exposure and increased sales for sponsors, and generally, make some money.
The ihra continues under the leadership of president Bill Bader and Vice President of Sales and Marketing Aaron Polburn. Since Bader bought ihra motorsports in 1998, their working partnership has provided strong results. They now sanction 75 member tracks with membership growing to an all time high of 13,000. Attendance is up at all national events.
With the creation of ihra s two new sportsman divisions, sportsman and bracket racers in Texas and the Midwest now have the opportunity to race with the association. Additional racers mean increased business for sponsors and vendors. In 2000, contingency programs grew to over 14.2 million dollars, up from 8.2 million dollar in 1998. Pro purses also grew, with Summit Racing Equipment becoming ihra s first million dollar series sponsor.
In 2001 there is a plan to take over the sanctioning Virginia Motorsports Park, near Richmond, Va. and to present their first Summit Drag Racing Series major event in Spring, 2001.
There will be 15 competition classes showcased next year; Top Fuel Dragster, Mopar Performance Parts Pro Modified, Screamin Eagle Nitro Harley, Funny Car, Sunoco Pro Stock, "NOS" Top Sportsman, "Annihilator" Top Dragster, "Hooker" Modified, "Dominator" Quick Rod, "Holley Team G" Super Rod, "Weiand" Hot Rod, "Lunati" Super Stock, "Earl s Stock" and E.T. Bracket.